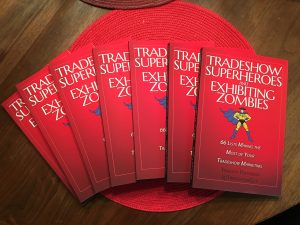 Thanks for grabbing a copy of my new book, Tradeshow Superheroes and Exhibiting Zombies: 66 Lists Making the Most of Your Tradeshow Marketing. If you've found this page without getting the book, what are you waiting for? The Kindle download is less than the cost of your favorite coffee drink! Or grab the paperback so you can show it off to your friends and share with colleagues.
Here are some that are intended to help you clarify some of your tasks and organizational goals in tradeshow marketing.
Start by grabbing these Mind Maps:
Overall: Tradeshow Marketing Success Mind Map (right-click to save)
PreShow Marketing Mind Map (right-click to save)
Next, download our extensive budgeting worksheet:
Tradeshow Budgeting Spreadsheet (right-click to save)
---
Want to check out my first book?
It's called Tradeshow Success: 14 Proven Steps to Take Your Tradeshow Marketing to the Next Level. Grab it on Amazon or get a free digital download at TradeshowSuccessBook.com.
---
Take a look at my Amazon author page here.